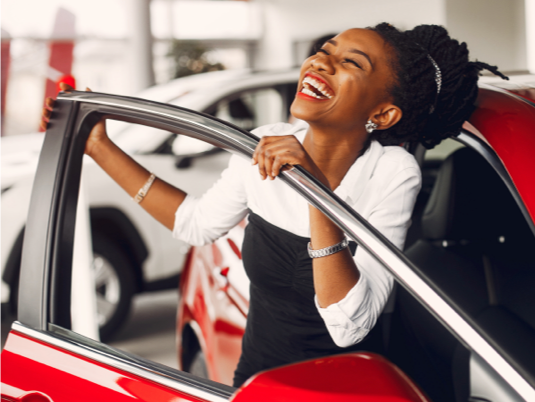 Testimonials
We can talk for hours about how much you'll enjoy leasing a vehicle through us, the stress-free process, the value for your money and so much more. But don't just take our word for it. There are thousands of happy customers to tell you themselves. Here are a few of them.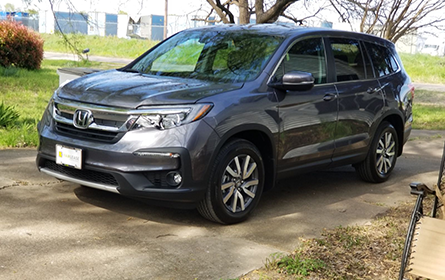 NANCY'S NEW HONDA PILOT
We had a "Great Experience" working with FairLease on picking out the right Honda Pilot for our family. Our consultant was available at all times to answer our questions. His delivery time was fast and easy on our 2nd FairLease vehicle. Thank you FairLease for all you have done for our family.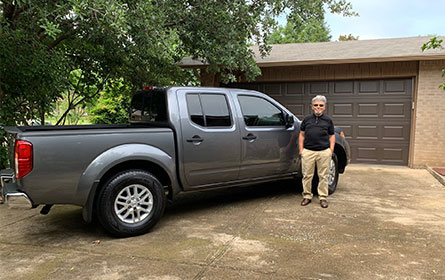 MAGGIE & ART
Just wanted to share our great experience with FairLease. They immediately found us the truck we wanted! This is our second vehicle with FairLease because we love the great customer care we received. We always tell our friends and family when they ask where we got our truck and we tell them about our great experience!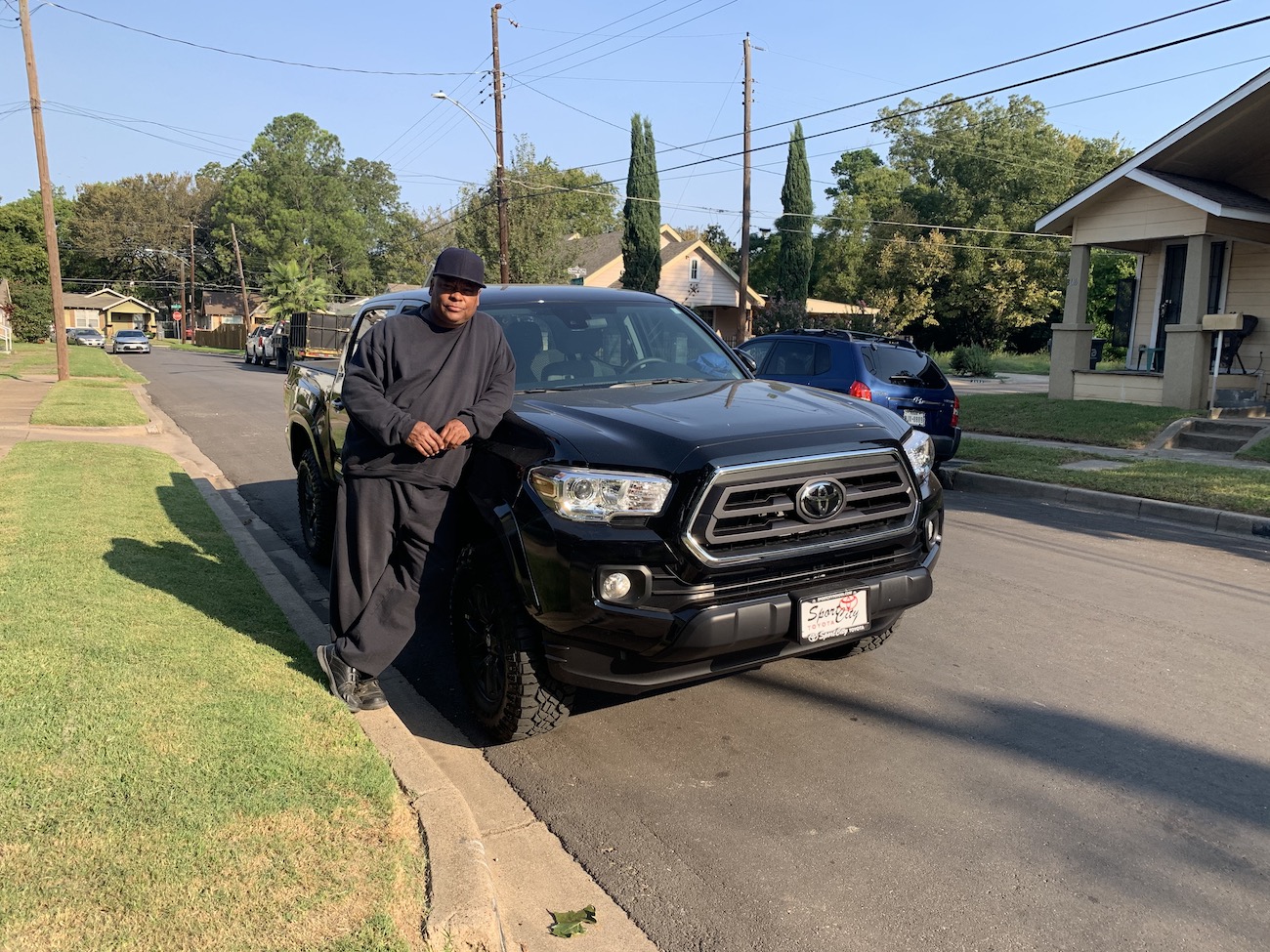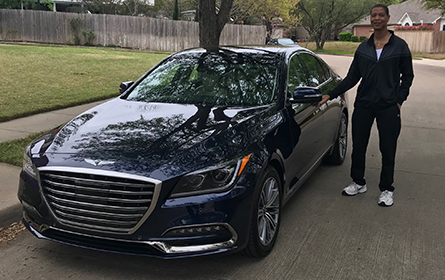 K. JOHNSON'S PERFECT GENESIS G80
Finding a 2019 G80 with the right colors and options my wife wanted was nearly impossible, believe me we tried. FairLease was able to locate one and have it delivered to us within a week.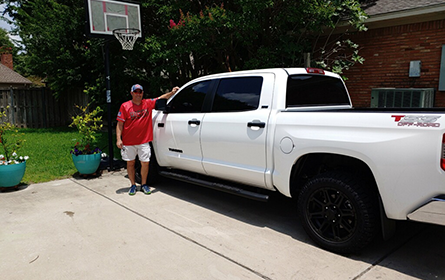 JASON'S NEW TUNDRA
What a great experience I had with FairLease. The process was fast and super easy; no pressure, no haggle, no long hours at a dealership, and best of all, we did everything by phone and electronic communication! He even took care of coordinating a few options I wanted added.  Again, highly recommend FairLease. Give them a call; you will NOT be disappointed.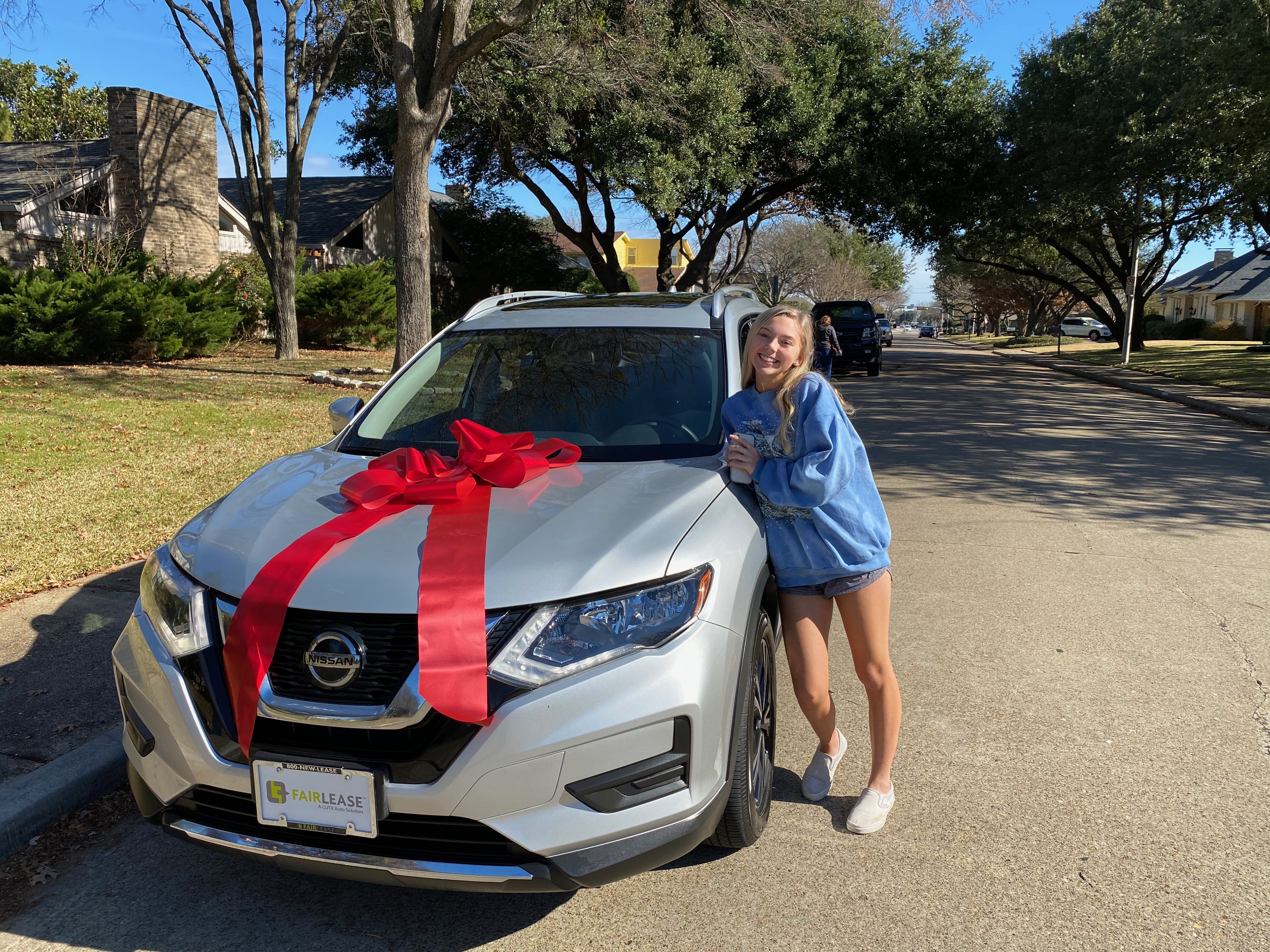 AVA'S 16TH BIRTHDAY SURPRISE
We had a great experience leasing a Nissan Rogue for our daughter on her 16th birthday. FairLease handled all the paperwork and then delivered the car to our home with a giant red bow. Our daughter has not stopped smiling since. This is our second leased vehicle with FairLease, and we could not have been easier both times.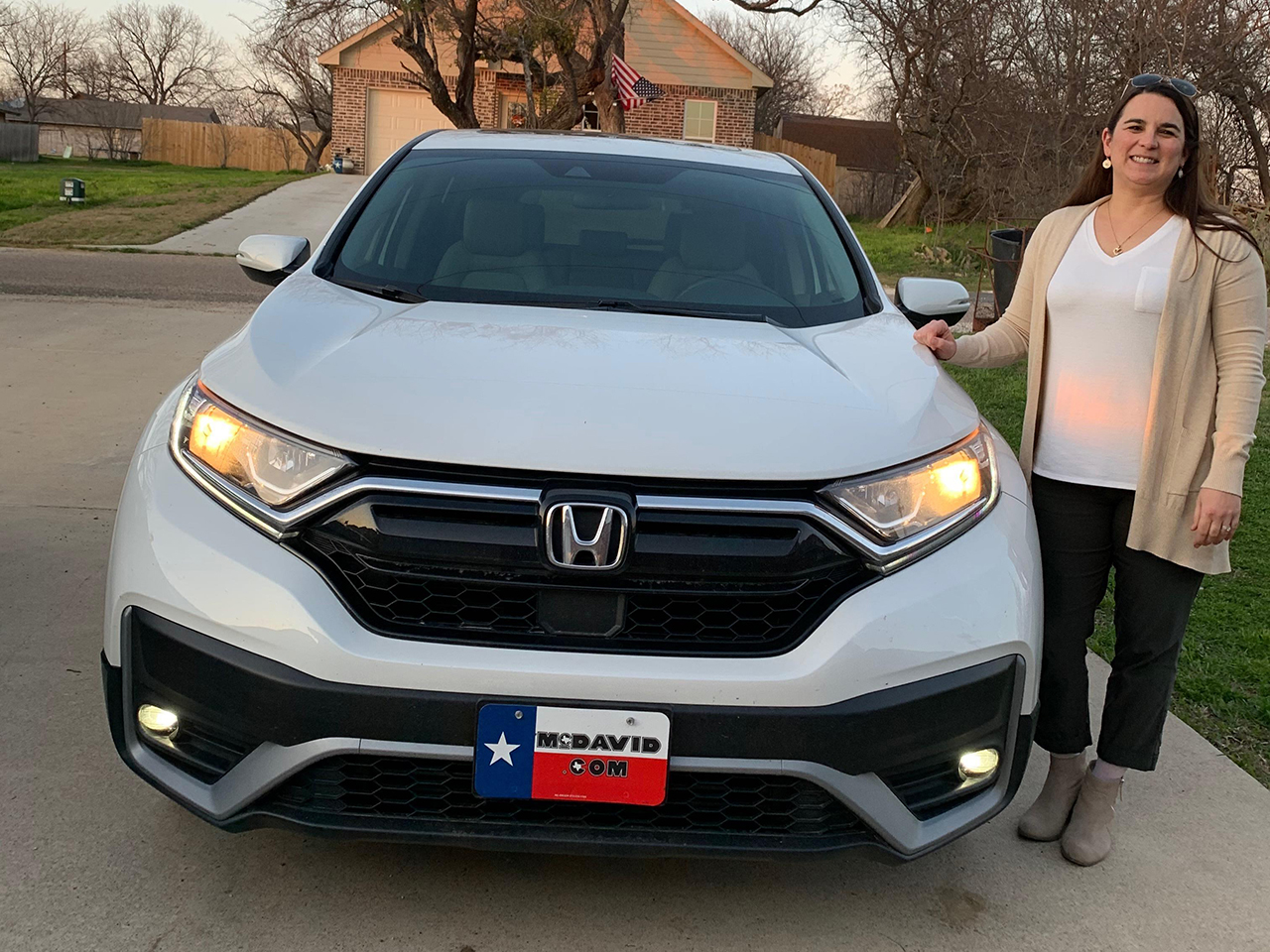 TIERNEY'S NEW CRV

I LOOOOVE FairLease! I just signed contracts on my fifth car with them and I still cannot be any more thrilled and satisfied as I was with car #1. No more hassle and wasted time of wheeling and dealing with dealerships and test driving. They bring my new car to me and take the old one. It's amazing!!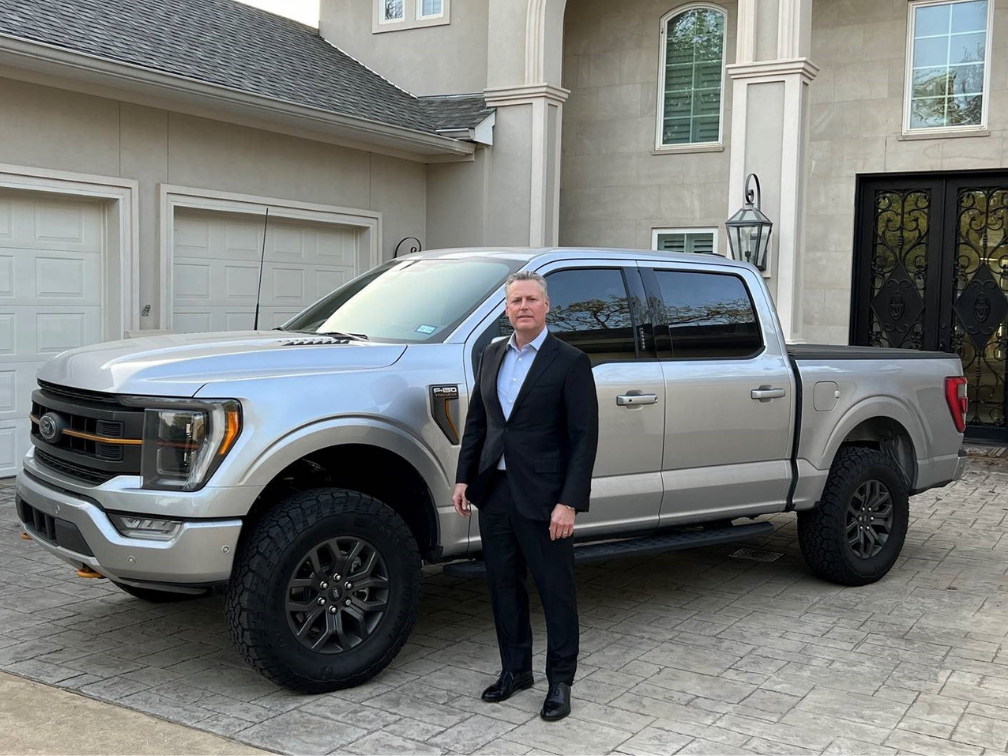 STEVE'S QUOTE
Thanks to Jeff Cole and John Tatum at FairLease for making my new truck transaction such a great experience. They exceeded my expectations. I recommend them to anyone who is in the market for a vehicle.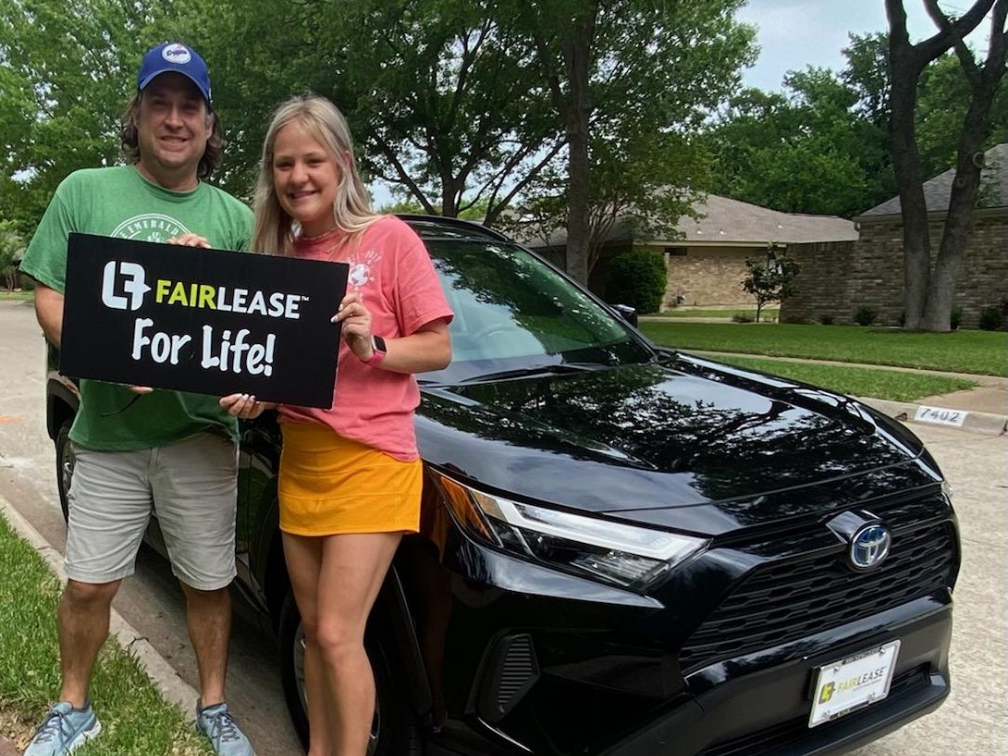 JASON'S QUOTE
This is my 5th vehicle to lease from FairLease. Leasing from FairLease is the easiest and most stress free car buying experience you will ever have. Dan is super to work with and goes above and beyond for his clients. Don't waste time at the dealerships haggling and overpaying for a vehicle. Call FairLease and ask to speak with Dan and he will arrange everything for you from test driving, completing paperwork electronically, and finally delivering the vehicle to your residence or place of work. Thanks again Dan and FairLease for great service! We'll be back soon for our 6th vehicle lease!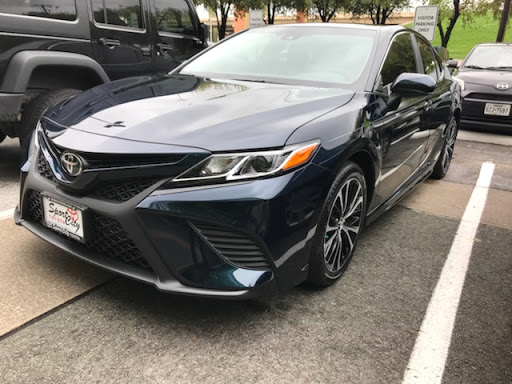 CHANDRA'S QUOTE
Okay, 2nd New Car! - April 2021 Nissan Rouge - with FairLease!! Just as excited about my new Rouge as I was with my Camry only more!! Same great service with John Tatum. Car delivered to my job in great condition. I also recommended to a co-worker and I received $200!! If you're looking for a good vehicle, with great customer service, one that will work with you, get what you're wanting, and delivers to you, go see John Tatum at FairLease, tell him Chandra sent you!!! ;-) John THANK YOU!!! This is my first time dealing with FairLease and I can't say enough nice things about my first experience. John Tatum was a perfect person for me. He was patient, thorough, and was a very pleasant and personable. He went above and beyond for me by working with my schedule. Today, it's rare to have GREAT customer service, a great customer experience. My car, my first lease car, a 2018 Toyota Camry, is perfect for me! I love, love, LOVE it. It's a Aquatic Blue, that I've named Mystic because of the different variations you see when you're in either the sunlight, or at night. John offered to have my car delivered to whatever location I wanted, but I came to pick it up, I was so excited. If you're looking for a lease car, you MUST try FairLease first and ask for John Tatum, tell him Chandra sent you.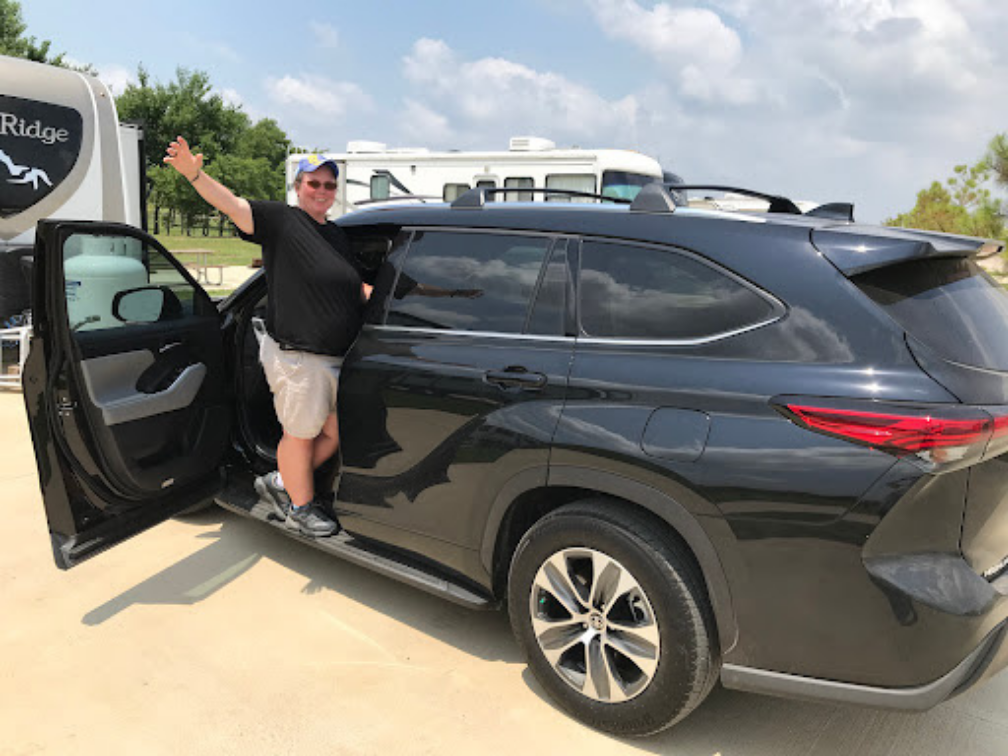 JULIA'S QUOTE
This is our FOURTH vehicle with FairLease!! Always super helpful and always find us what we want and for a great price. Leasing is not for everyone, but for those of us that like to get into new vehicles before warranties expire, nothing better! Haven't set foot in a dealership in years, except for service . Have recommended FairLease and a few friends have actually used them too!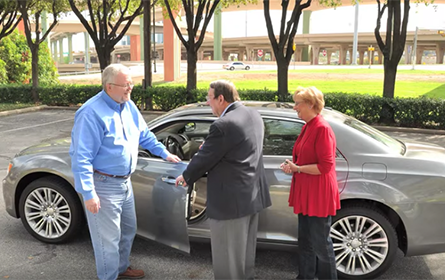 NOEL & NANCY'S FAIR DEAL
Noel and Nancy prefer leasing a car to buying it outright because, in Noel's own words, "You don't even really own the car until you make the last payment - and by then you want a new car!" When we asked him how the experience with FairLease was, he said, "I've always thought it a real hassle to buy a car. The salesman is constantly showing you this and that, and then you're negotiating what you'll get on your trade in and… it's a hassle. But with FairLease - the best way to describe it is 'a piece of cake.' It's wonderful."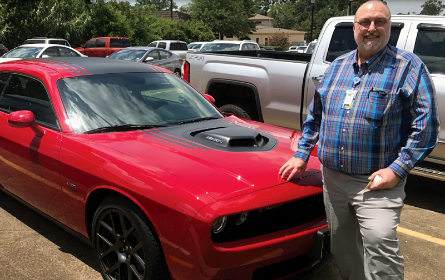 STEPHEN'S NEW DODGE CHALLENGER
Stephen is so proud of his new Dodge Challenger R/T Shaker – and rightly so – this is one special car! It only took a few days for his personal FairLease consultant to locate this rare beauty and have it delivered to his office, located 3 hours from Dallas. Stephen "can't wait to get this monster on the open road!" No matter what your definition of "special car" happens to be, FairLease can help with payments that are 40-50% less than buying. Call FairLease today to get the process started for you.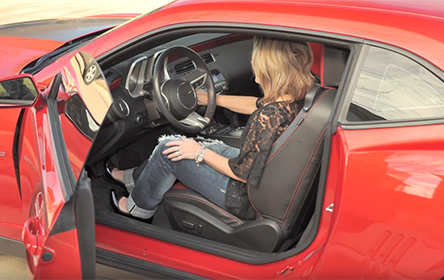 WENDY'S NEW CAMARO
FairLease went all the way to Louisiana to find the Camaro that met all of Wendy's needs and wants. Wendy had this to say about her experience with FairLease: "It was just great. I figured out what kind of car I wanted and what features I wanted. There's no stress or haggle. You tell them what you want, and they find exactly what you want - not what they have in stock."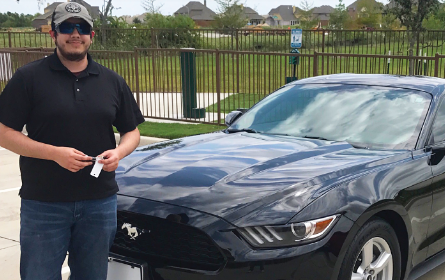 JOSH'S NEW FORD MUSTANG
When he began the conversation with his personal FairLease consultant, Josh was ready to settle for just-another-inexpensive-sedan that he felt best fit his payment budget. But as he and his consultant got to know each other, Josh opened up and mentioned that his dream car was a Ford Mustang Coupe, a car he assumed he could not afford. Since FairLease is in the business of making dream cars a reality, his personal consultant got to work and located a beautiful 2016 Mustang, and structured a lease payment that fit perfectly within his budget. Looking sharp Josh! If you think your dream car is out of reach, give FairLease a chance to make your dreams come true!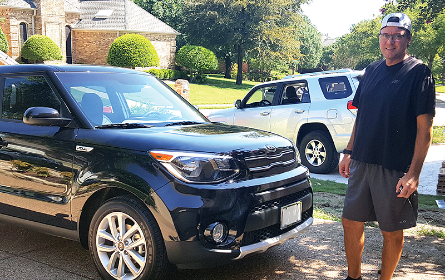 JEFF'S NEW KIA SOUL
Jeff and his wife went out of town and let FairLease do all the work! They were originally considering 3 different vehicles, but after test driving the Kia Soul Plus, Jeff and his wife knew it was the car for them. While they went out of state to enjoy a visit with their daughter, Jeff's personal FairLease consultant went to work. She located a Soul with the exact colors and options they were looking for and made arrangements to have it delivered to their driveway as soon as they arrived back home. Isn't it time you experienced the FairLease difference? FairLease will make your next vehicle shopping experience feel like a vacation.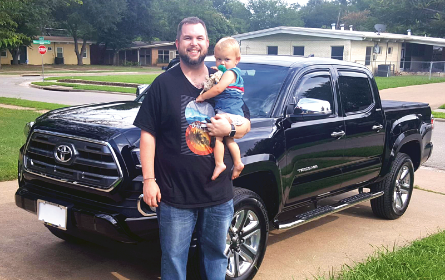 LOGAN'S NEW TACOMA
Logan is happy to be able to drive his son around in his fully loaded Toyota Tacoma Limited. Logan was determined to get leather seats and a sunroof in a Tacoma, but he also needed to stay within budget. His personal FairLease consultant found him a barely used 2017 that gave him everything he wanted, including a great payment. This magic even happened all in one day!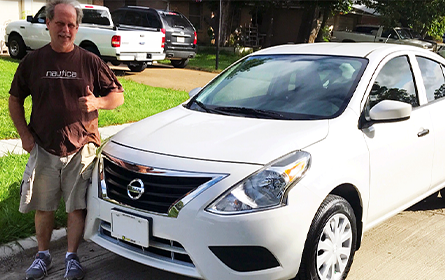 BILLY'S NISSAN VERSA
FairLease gets a thumbs up from Billy and we couldn't be happier! Billy and his wife were looking for something a little different in today's world of bells and whistles – manual windows – yet still wanted style and nice features. Their personal FairLease consultant went to work and within 24-hours found them the perfect new Nissan Versa S Plus!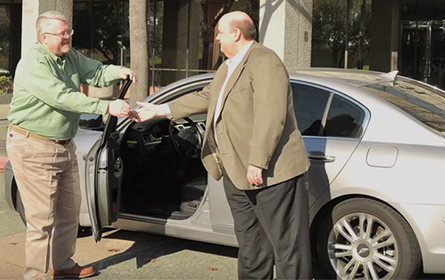 JUDGE GOT A FAIR DEAL
Judge has been a long time fan of FairLease. He appreciates how much better the car leasing experience is when FairLease is at the wheel. He says, "The worst thing you can do is walk into a car dealership and not know anybody. But when you call FairLease, you walk in and they treat you like royalty! It has been a great relationship. They have taken care of us like we're family, and we spread the word wherever we can."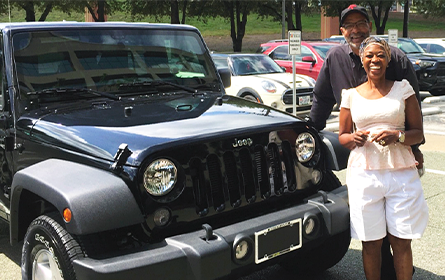 JAMES & VALDER'S NEW JEEP WRANGLER
FairLease loves putting beautiful smiles on faces – like James and Valder! The couple was actually headed to a dealership to purchase a used Jeep Wrangler when they were referred to FairLease by a CUTX employee. Great news, their personal FairLease consultant was able to work magic and find a great deal on a brand new Jeep Wrangler Unlimited. They ended up with a lower payment than they were expecting, plus a brand new Jeep means a full-factory warranty! Valder can't wait to join an all-women's Jeep club and start living the Jeep life. You don't have to settle for second best – FairLease can help you get the vehicle you really want with a monthly payment that fits your budget. For a free, no obligation consultation, call FairLease to chat with a consultant.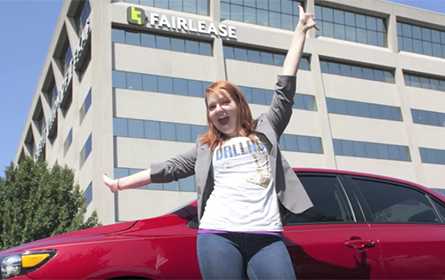 ABBY'S NEW TOYOTA COROLLA
You must enter the date in the CMS, in the bottom-most content area of each box.
The date must be in format MM/DD/YYYY, with 2 digits for month/day, and 4 digits for year. If the date isn't formatted this way, or not entered at all, the rearranging will not work.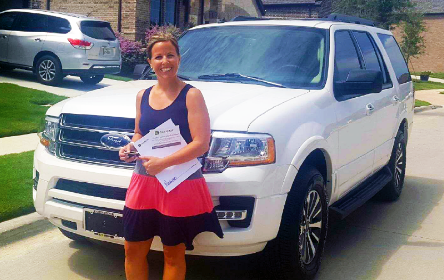 KIM'S NEW EXPEDITION
After just one call to her personal FairLease consultant, Kim was on her way to falling in love with this beautiful, new Ford Expedition! After a test-drive set up by her consultant the very next day, Kim knew the Expedition was her dream SUV. As you can tell by the big smile on her face, the process was easy and painless. If you're ready to start driving the car (or SUV) of your dreams at a monthly payment you can afford, call 1-800-NEW-LEASE, or chat with one of our consultants.